Dermvisage Skin Analysis, Anti Aging Skin Care Products and Donna Dolphy Hairstyle at Yorkville Hair Salon
I always recommend my female clients get a makeover when they're feeling discouraged or 'rebounding' cause it perks people up both mentally and physically, and it boosts self esteem; if you invest a couple hundred dollars and few hours into yourself today, you can reap huge rewards for the next week or two by looking and feeling better about yourself.. Well last week I really needed that. I've been driving my business too hard lately getting things on track for 2016, and honestly I felt like I could use a beauty break.
So it was with great enthusiasm that I accepted a mini makeover last Friday from friends who somehow knew I needed help. They offered and I accepted a complimentary cut and style at Donna Dolphy Yorkville hair salon followed by an intense high technology Dermvisage skin analysis after which my data was incorporated into a personalized anti aging skin care products demonstration and discussion. I found out how my skin is going to age and got some insights into what I could look like in ten, twenty and even thirty years time. Sounds amazing huh? And it was fun.
When I arrived the smell of hair products greeted me on the stairs, and as I pushed open the door my first sight of Donna's shop really took my breath away – it's beautiful.
Every month or so, especially in winter time a girl needs a spa day filled with inspirational sights and sounds and beautiful works of art. Donna Dolphy's beauty salon at 88 Scollard St in Yorkville Toronto certainly has all of that. Its filled with inspiring images of beautiful women with wild and exotic hair styles, some of which Donna created. Mannequin heads with perfect coiffures sit on shelves beside hard-to-find products. There's a large colorful mosaic display of hair dye box ends between the washing stations and five barber chairs ringed with mirrors and lights.. And there's everything else you might expect at one of Toronto's foremost hair styling salons.
Donna started her service with questions so she could understand what I was looking for in this hair makeover.  Donna and I discussed in detail what I wanted done. She asked me how much time I spends on my hair at home, and how easy it will be to maintain this new look. Donna is very professional and very committed to what she does.
Here is my official Before picture – I wasn't trying to look drab or dreary, but I did have an adventure filled evening the night before and I wasn't wearing any makeup. This was taken before the coffee too…
.
Donna Dolphy has 18 years of experience in the hair industry, and you can see by gold plaques on the walls and the number of awards she's won that her unique artistic gifts have been recognized at the highest levels. She has huge glass trophies from some of the largest most famous hair shows in Canada on a shelf behind her chair at the front of her salon.
Donna Dolphy Yorkville Hair Salon is Famous For Her Non Kissing Blow Dry
Donna Dolphy's Non Kissing Blow Dry Technique is her own proprietary hair styling method which she describes as 'an organic way of carrying out a blow dry that leaves your hair looking and feeling terrific'. She won't get too specific about its constituents but simply says its 'an innovative solution that seals the cuticles ñ so you never leave feeling like your hair has been fried.' and that resonates with me as I have left other Toronto salons with sore hair before…
Non Kissing Blow Dry is explained in more detail on Donna's website where, there's a note in the pricing (it costs $40 just for the blow) that reads "Non Kissing Blow Dry Technique is when oxidation occurs between the brush and the blow dryer which respects the integrity of the hair, and allows the hair to be shinier, healthier and more luscious." well whatever Donna's doing its making her famous. Last year she was invited to fly to Marrakech, Morocco for demonstrations with clients. Donna also specializes in custom colored, handpicked human hair extensions and you may remember she was featured on Global TV for this specialty just a few years ago. Her hair extensions are a convenient way for women looking to add long lush locks when they go out on the town, or are still waiting for their hair to grow out. Anyway.. That's Donna.
Without too much instruction or counseling, Donna Dolphy proceeded to cut and style my hair into the look she thought would best suit my head. I watched with nervous trepidation as she scissored away between two and three inches of length to introduce bangs and give my hair more dimension and that Fifty Shades of Grey look…
The result was amazing. Donna is super talented/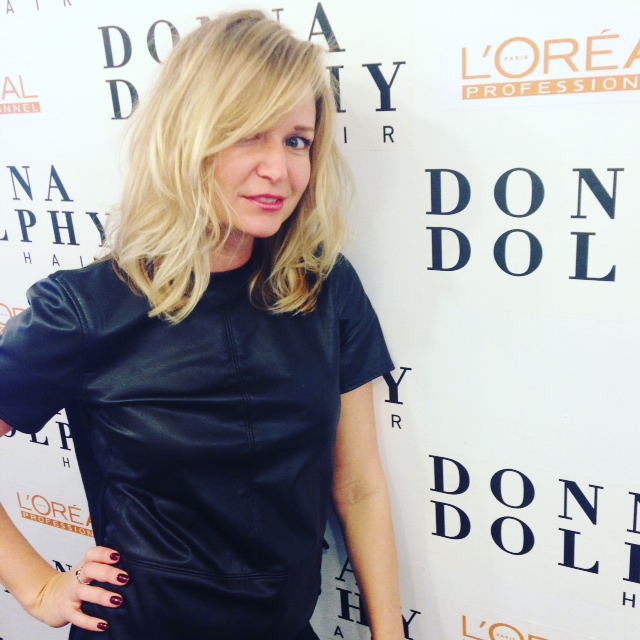 While all this was happening Ursula Eshragi the CEO of Dermvisage had set up her high tech skin analysis machine in the lounge area behind Donna's chair, and so I watched in the mirror as Donna's staff members came and had their skin checked out.. and then it was my turn.
Dermvisage Skin Analysis and Anti Aging Product Demonstration
With my hair now perfectly cut and styled by Donna, Ursula Eshragi from Dermvisage took over. She sat me down on the leather couch and had a good long look at the skin on my face, neck and arms. She asked me about my diet, and my skin care regime.
She held up a plastic handheld senor to my face which has lasers inside (of course) that could rather quickly determine the quality of my skin as it relates to aging. Her Triplesense machine checked the moisture, oiliness, and the elasticity of my skin and made a display on a laptop computer.
Having good elasticity means my skin could remain wrinkle free for a few more years anyway. Next I had my whole face analyzed in a bowl shaped sensor with even more lasers.
And below you can watch this three minute video of Ursula explaining the results to me,
Ursula told me that I have very little sun damage so I must be using good sun screen protection (I am) and my pores are fine on the surface but deep down underneath there were some blocked pores. I have good exfoliation on the surface which means I have very few dead skin cells and need only a gentle scrub which Ursula gave me later. She recommended that I use a stronger antioxidant to get my skin back into the green zone and keep my elasticity up to defeat wrinkles.
I talked to Ursula for a long time afterwards about her products and ideology. She is such a sweet woman.
Dermvisage skin care products feel light and clean and not heavy and oily. This is the Dermvisage Super Smoothing Cream which is a high concentration of hyaluronic acid combined with squalane. It was probably too much product – done for the camera, about twice as much cream as is actually necessary for daily moisturizing hands, face and neck.
After a few washes and wipes, my skin was glowing.
The whole day was really spectacular, and I wanted to thank Donna and Ursula for making me look and feel so special. I needed that!