Welcome to our Singles Network

Join our Singles Network to receive personal invites to our upcoming social events in the city.
Summer "Pay it Forward"-Send us a client referral and receive 20% off all Shanny in the City Dating Services. Take advantage of a Wingwoman Session, Matchmaking Consultation or a Dating Coaching session with Dating Expert-Shannon Tebb.
Recruiting Toronto single male &  females, apply now to receive a complimentary Matchmaking Consultation (August 2017)

Recruiting Toronto & Ottawa Bachelors 30-50, apply now to receive a Match on Us. Complete the registration form below.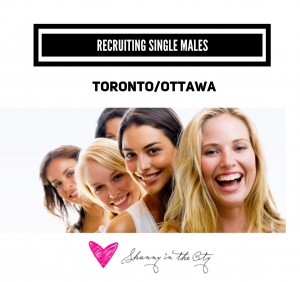 ⇒Visit our full list of SERVICES:  Click here!
⇒Ever considered hiring a MATCHMAKER? Register now!
Singles Network Registration Form