A Boutique Dating Service to help you find your person.

Welcome to Shanny in the City Matchmaking!
We specialize in screening, headhunting, attracting and matching Toronto quality singles with like minded individuals. Our clients are well presented, business professionals, in the 25-55 age range, looking to find a quality relationship and a lifetime partner.
Why work with us?
A "Boutique" service helps you save time, gets you out on dates, makes the dating process enjoyable and is confidential. It is personalized to meet the needs of our clients and we offer any necessary dating coaching along the way.
During the screening process, we ensure our clients are 100% Date Ready and in a good mindset to start dating. We believe that you have that one chance to leave a lasting impression and really connect with your date.  We feel fortunate to have matched over 600 singles and help fill in that missing piece of the puzzle-finding a partner.
All profiles are kept confidential and clients can ensure that their dating lifestyle will be managed efficiently. We include profile photos along with a written bio to review before you agree to a date. We don't believe in blind dates, and feel if you are paying for a dating service you should see a photo beforehand. Our clients are well presented, live healthy lifestyles and are real people who enjoy being in a relationship.
To learn more about our Matchmaking process please complete the Get Matched registration form below. We will contact you within 24 hours to set up the initial consultation ($125).
*HOLIDAY GIFT CERTIFICATES AVAILABLE FOR PURCHASE* Please email: Date@shannyinthecity.com Offer expires December 25th.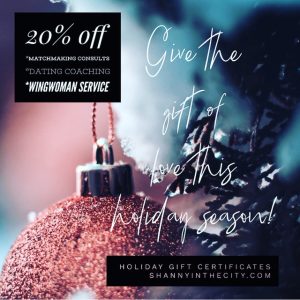 What are clients want to share:
"Working with Shanny in the City has been great. Shanny takes the work out of dating. She eliminates all the time wasting and frustration of usual social media dating. Instead of endless texting that may go nowhere, Shannon matched me with high quality professional singles and the only thing I had to worry about was where to meet and what to wear. All the women I met through her service were stunning, accomplished and very impressive people. Shanny also provided blunt yet constructive feedback post-date and had great tips on dressing, texting etiquette, etc. which really helped me since I had not dated for a while. I would not hesitate to recommend Shanny to anyone looking for a relationship in Toronto as she is a true professional." Male-46
"All I can say about Shanny is she's the real deal. Over a short period, I was introduced to two stunning women and went on truly amazing dates. I have since entered into a relationship and can't thank her enough! I would happily recommend her Matchmaking service to all of my friends". Male-45
"Working with Shanny was easy. She knew exactly the type of man I was looking for and took the time to find him. We have been dating for 2 years now. Thank you Shanny for your patience and spunk!" Female-32
"I tried online dating and it really wasn't working. After hiring Shanny as my Matchmaker, I was impressed by the matches and felt less stressed to know that she was my cheerleader throughout the process. After 3 introductions, she found me a great guy who I'm happy to call my boyfriend". Female-41
"I met some pretty incredible women who were not only attractive but also very interesting. If it hadn't been for Shanny, I would not be in the relationship I'm in today. We are still enjoying life together after 3 yrs. Thanks Shanny for all your hard work". Male 47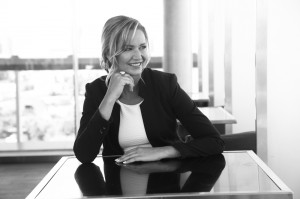 Get Matched Memberships
12 month membership with 4 Introductions

Pre-screening interview and Matchmaking consultation
Confidential customized profile design and edit
First priority to review your matches which includes photo exchange
Professional Photoshoot with Fashion Photographer (optional)
Invites to social events hosted by Shanny in the City
12 month membership with 8 Introductions

Pre-screening interview and Matchmaking consultation
Pre-date phone conversation
with quick dating tips and support
60 minute Dating Coaching Session
60 minute Life Skills Session
Professional Photoshoot with Fashion Photographer (optional)
2 complimentary personal training sessions
12 month membership with Unlimited Introductions

Complimentary 2 hour Wingwoman session
Monthly 60 minute Dating Consulting Sessions
Complimentary Image & Wardrobe consultation
2 hour shopping session with image consultant
Post-date debriefing and feedback session
Professional Photoshoot with Fashion Photographer
2 complimentary personal training sessions
Registration Form: